SKETCHMARKER BRUSH PRO is a professional marker featuring professional Japanese alcohol-based ink and double-sided Japanese nibs . One side offers a high-quality flexible brush nib and the other a chisel nib. With 400 colors in the palette, more than any other alcohol marker on the market, these markers are ideal for coloring, sketching, illustration, manga, comics, design, lettering, graffiti, hobbies and more. The cartridge is designed to allow extended use and all 400 colors have ink refills to increase their value even further. Replacement nibs are available should old nibs become damaged, dirty or worn. They are non-toxic and safe.
The professional qualities of these markers are appreciated by leading artists and designers and are now recognized around the world. SKETCHMARKER was founded in 2016 in Slovenia and has evolved in the past four years to include an extensive collection of 400 colors of alcohol-based markers and ink refills. High quality and safety of the products are very important. Extensive testing, licensing and control have taken place at all stages of development. Markers are certified and meet safety and quality standards: European - ASTM D-4236 (LHAMA Certification) and American -EN71-3. SKETCHMARKER is passionate about continually improving their products and have achieved a status where their products are selected for the professional qualities they contain, making them leaders in the market for professional art tools.
High-quality Japanese brush and chisel nibs - the brush nibs are designed to be flexible, yet sturdy enough not to fray. These flexible tips provide paint-brush like strokes and a varied line weight for a wide array of uses.

Alcohol based ink is permanent and quick drying.

Nibs are replaceable. These high-quality Japanese nibs are designed to be flexible and not fray, but we have all left the caps off our markers or used them where we shouldn't. Well... there is no need to throw the marker away - simply replace the nib!
The marker has a round barrel, but the cap has clever notches to prevent rolling on your work surface! In addition these caps are very close to color correct, so just by looking at the cap color you have a very good idea what color is in that marker!
Sketchmarker has a continuous inking system for beautiful, sharp color and smooth nib movement on both large and small images from the beginning to the end of the stroke. Controllable flexibility and mobility of the soft nib from the tip to the full bend. This gives the artist accurate control of color from the first touch to the paper. The Sketchmarker nib maintains even ink flow and saturation without drips or blobs when coloring.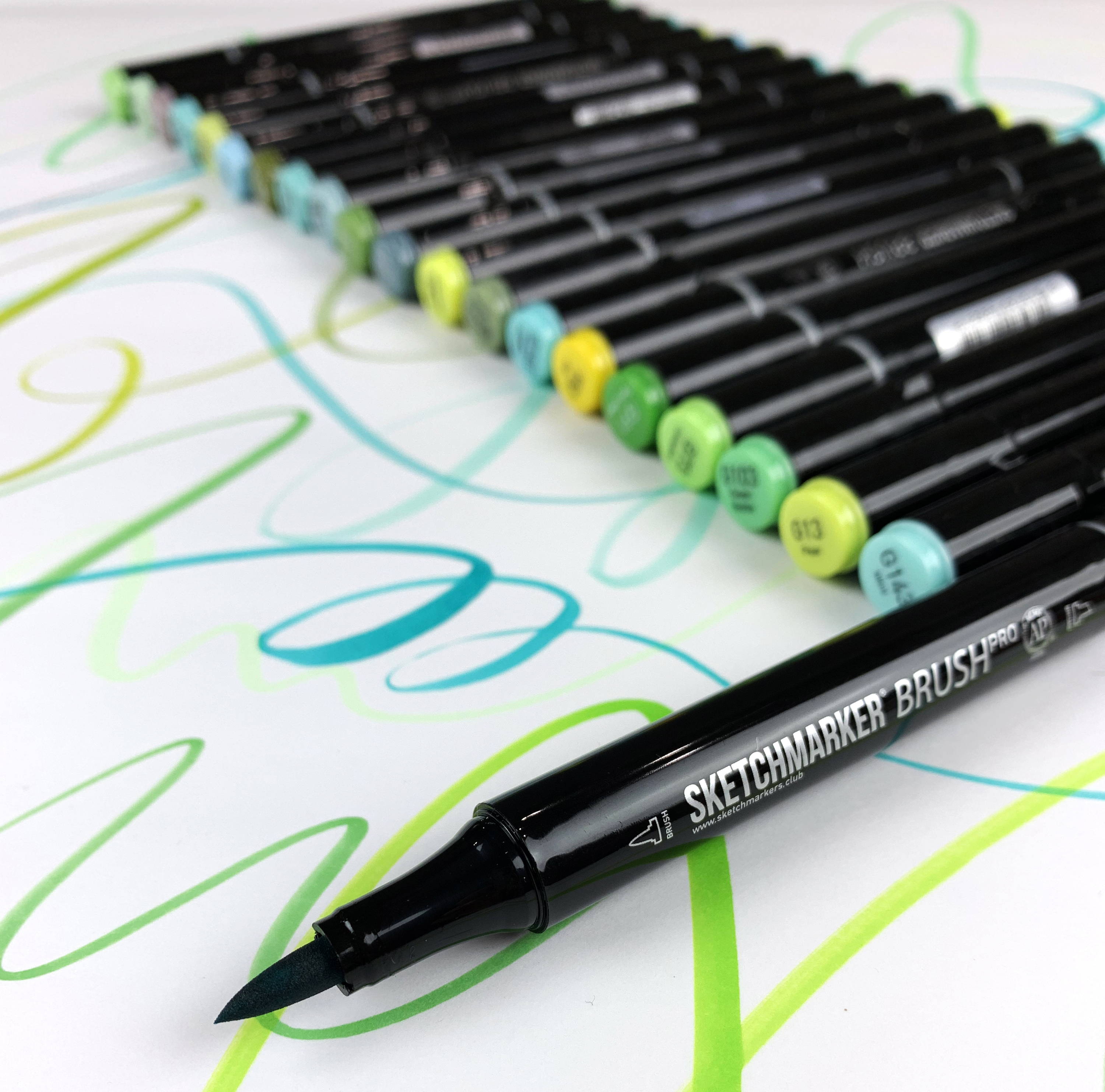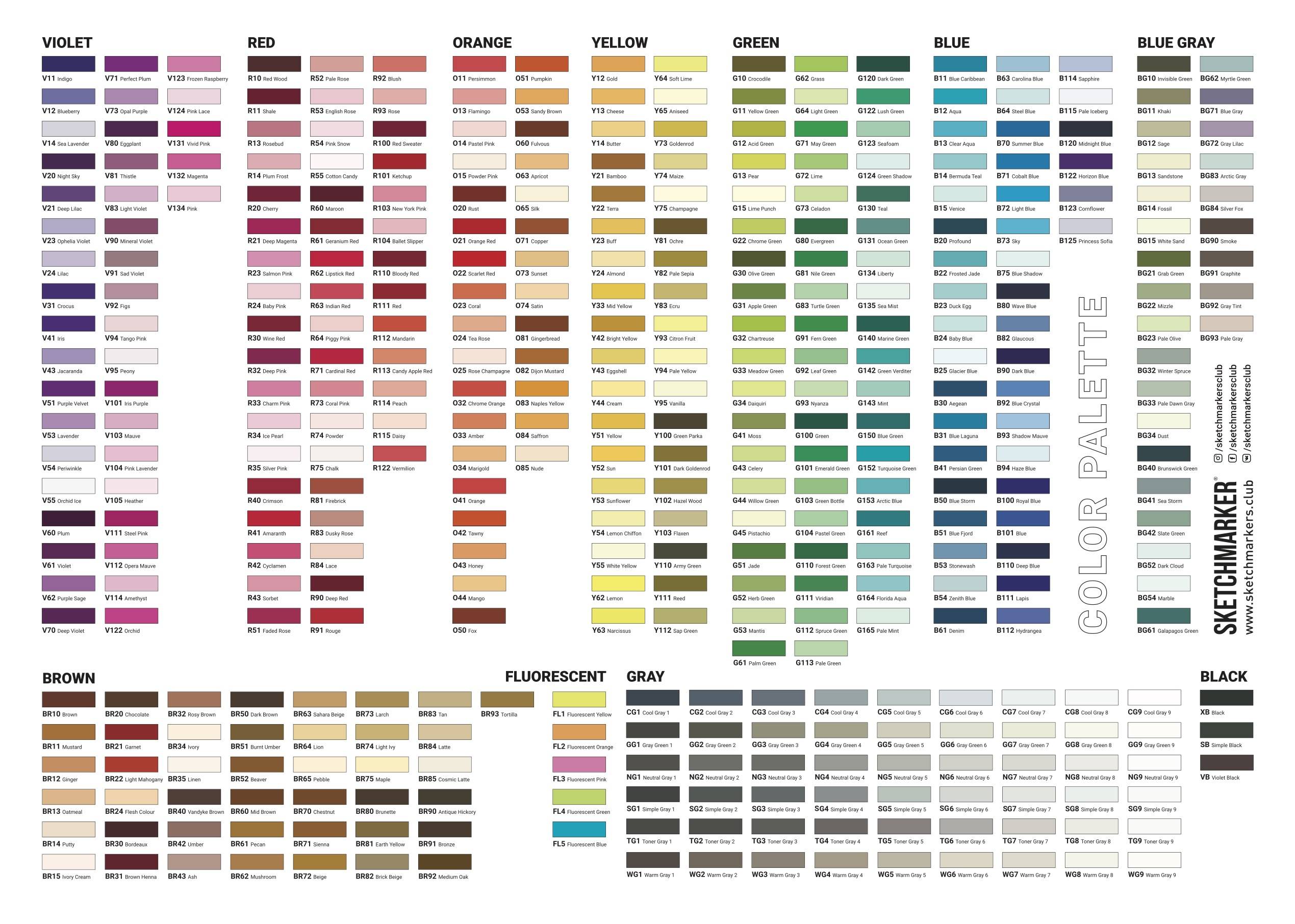 Japanese alcohol ink in 400 colors, with more to come! This innovative ink formula blends smoothly, with the shades of the markers forming smooth transitions, it provides opportunities to create your own new shades, creating large-scale opportunities to convey the depth and tone of color.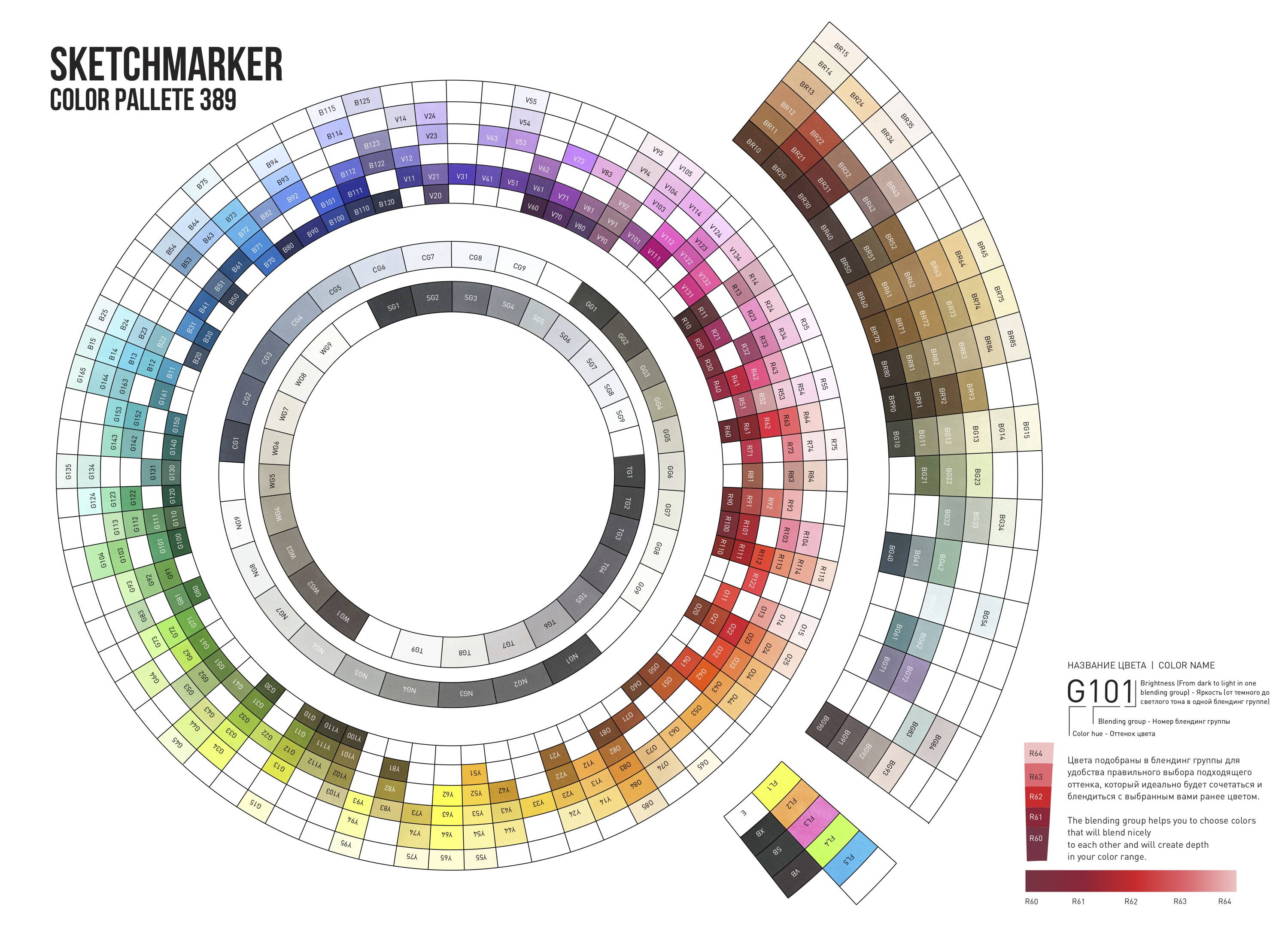 Refills are available in large 20ml size. This ink volume is sufficient to refill a marker 10 to 12 times. This means we throw 10-12 less markers in the landfills for each marker and refill purchased!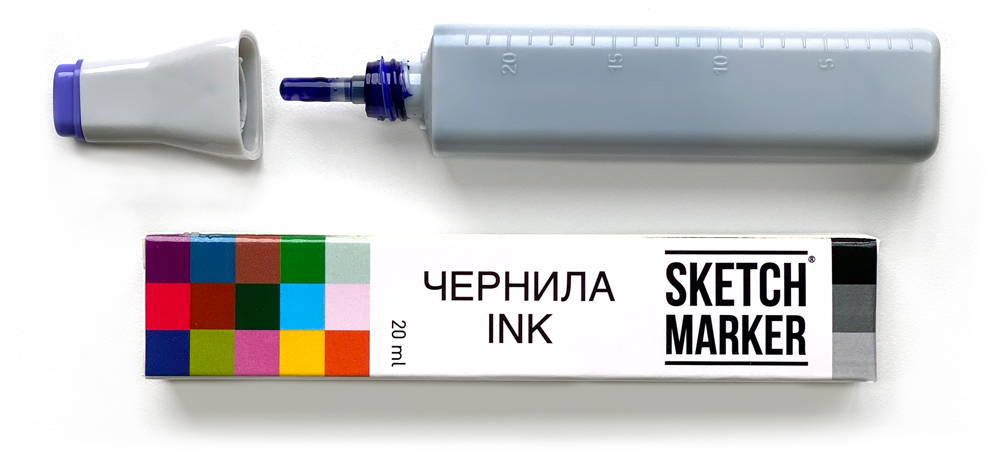 How does SKETCHMARKER BRUSH PRO compare to COPIC SKETCH?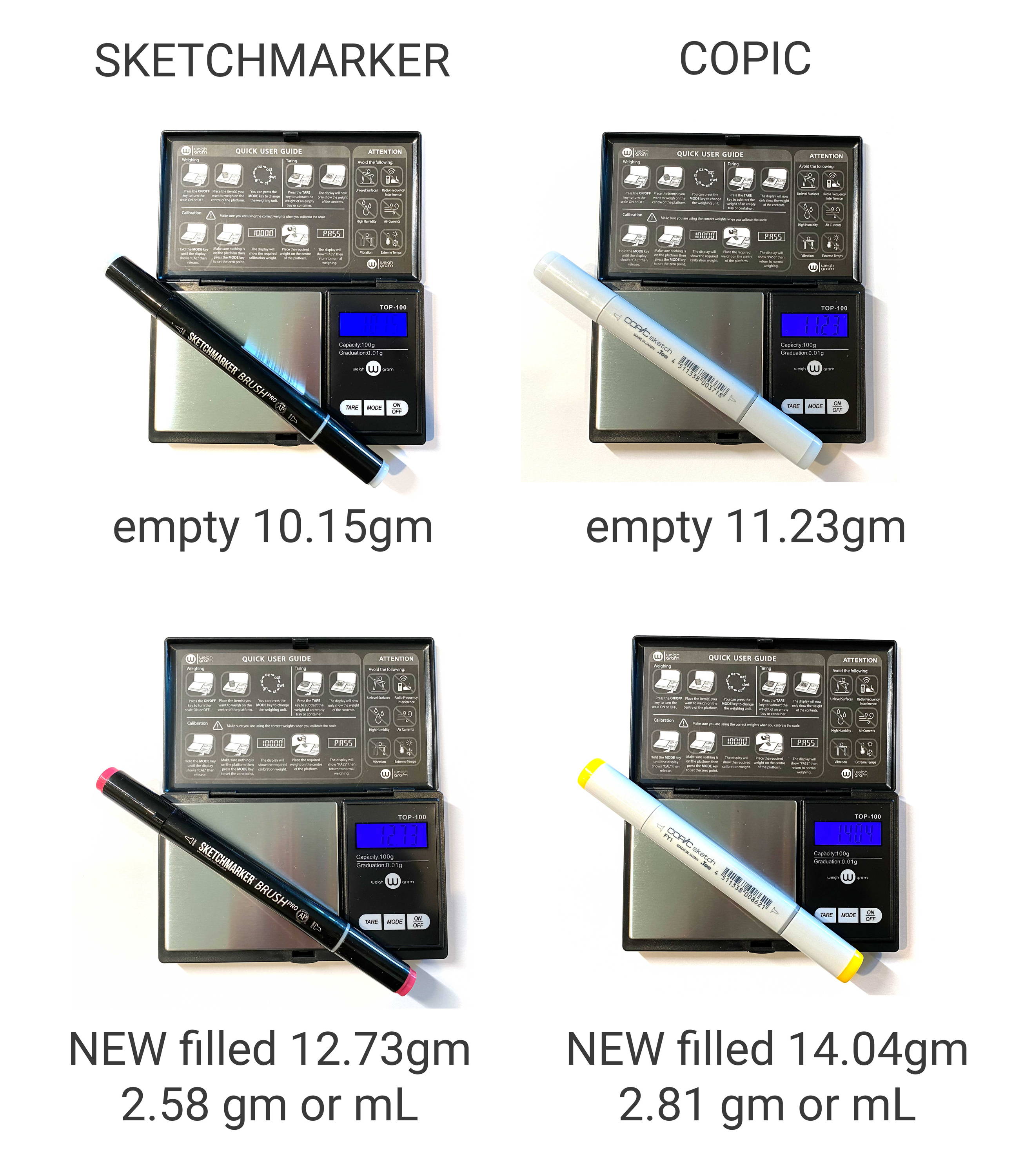 COLOR COMPARISON TO COPIC
For a complete comparison of Sketchmarker Brush Pro and Copic colors please feel free to download the Sketchmarker and Copic Comparison Chart created by Ellen. DISCLAIMER: Everyone sees color differently - this chart was created by eye and not machine. Some colors are very close matches and not exact - so close that I felt that if you have a Copic in that same color it is not a marker color I would add to my collection.
SIMILARITIES
Japanese made nibs.

High quality alcohol ink formulated in Japan.

Refillable.

Replacement nibs available.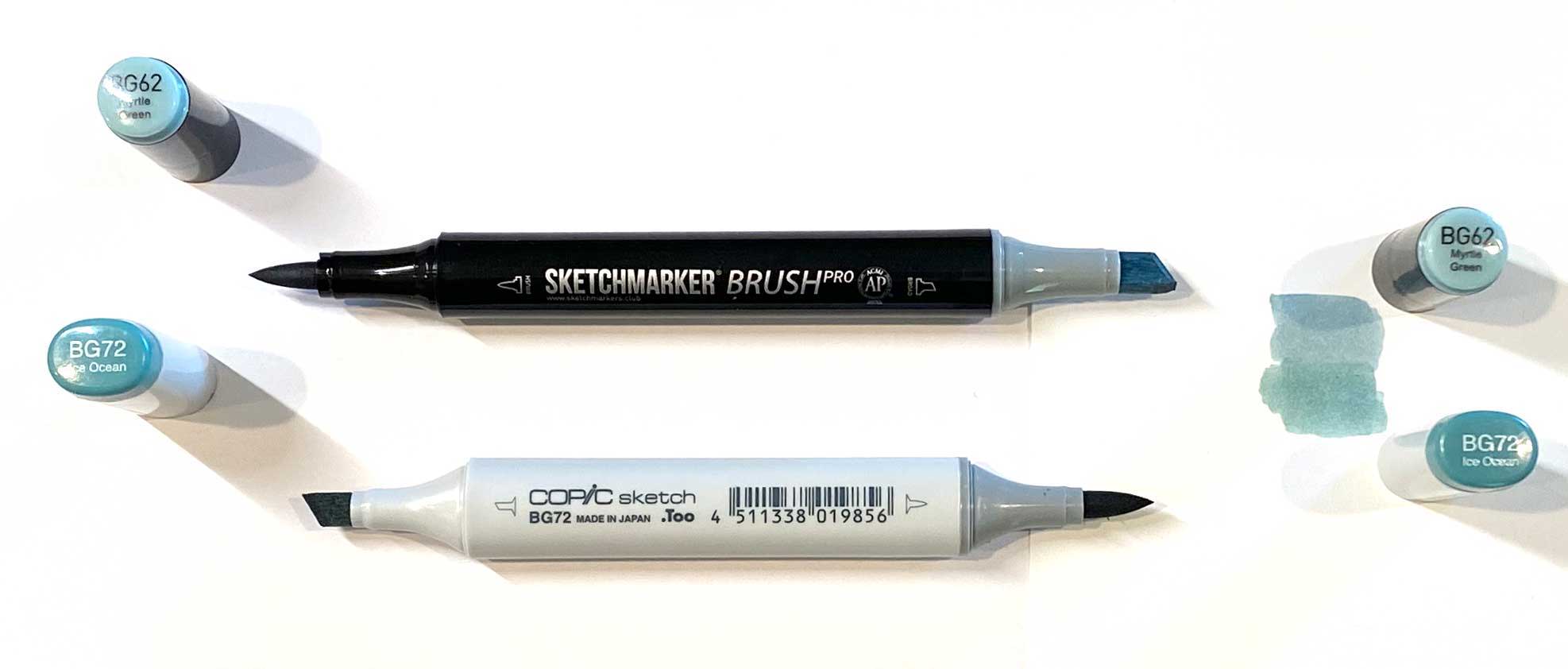 DIFFERENCES
Sketchmarker Brush Pro is round, whereas, Copic Sketch is oval in shape. Both are designed so that they will not roll on your work surface.

Sketchmarker Brush Pro states they contain 2.5mL alcohol ink in their new markers. The pictures of the new filled markers on the left show a random selection of markers I pulled to determine actual weight. Breaking this information down to cost/mL Sketchmarker Brush Pro weighs in at $1.94/mL ink at 2.5mL and Copic Sketch at $2.13/mL ink at 3.0mL.

Sketchmarker Ink contains 20mL with cost of $.314/mL. Copic Ink contains 12mL with cost of $.50/mL

Sketchmarker Brush Pro come in 400 colors and continue to add colors to their line. Copic Sketch come in 358 colors.